Arkansas Holidays 2023
Check Arkansas Public Holidays and Observances during the year 2023.

State Holidays:
The following days are the official holidays applicable to state government in Arkansas
Public Holidays
Date
Day
Holiday
January 2
Monday
New Year's Day  (Observed)
January 16
Monday
Dr. Martin Luther King Jr.'s Birthday
February 20
Monday
George Washington's Birthday
(Daisy Gatson Bates Day)
May 29
Monday
Memorial Day
July 4
Tuesday
Independence Day
September 4
Monday
Labor Day
November 10
Friday
Veterans Day  (Observed)
November 23
Thursday
Thanksgiving Day
December 25
Monday
Christmas Eve  (Observed)
December 26
Tuesday
Christmas Day  (Observed)
An employee's birthday -- an employee is granted one (1) holiday to observe his or her birthday.
A holiday falling on a Saturday will be observed on the preceding Friday
A holiday falling on a Sunday will be observed on the succeeding Monday
Observances:
Following days are oberved in Arkansas. These are not legal holidays.
Observances
Date
Day
Holiday
January 27
Friday
Firefighter Recognition Day
March 3
Friday
Arkansas Agriculture Recognition Day
April 9
Sunday
Confederate Flag Day
April 9
Sunday
Prisoners of War Remembrance Day
May 1
Monday
Hemophilia Awareness Day
June 17
Saturday
Juneteenth Independence Day
September 15
Friday
POW/MIA Recognition Day
October 15
Sunday
White Cane Safety Day
Arkansas Holidays Calendar 2023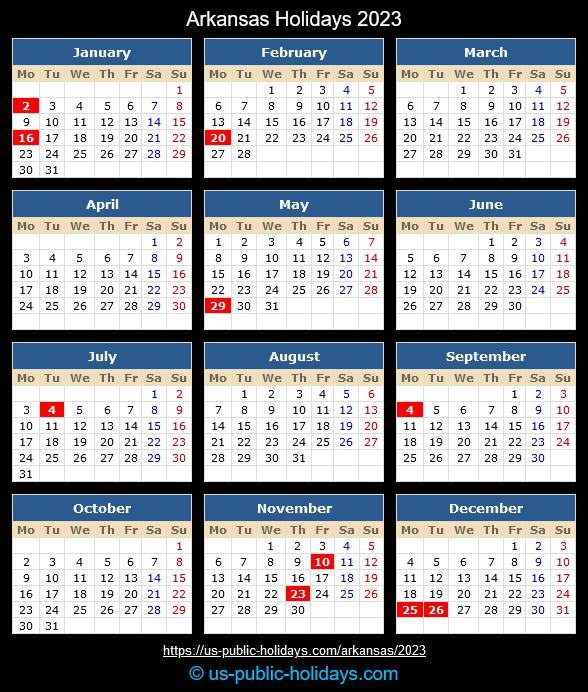 References: