Nevada Holidays 2023
Check Nevada Public Holidays and Periods of Observance during the year 2023.

State Holidays:
State Holidays
Date
Day
Holiday
January 2
Monday
New Year's Day  (Observed)
January 16
Monday
Martin Luther King, Jr.'s Birthday
February 20
Monday
Presidents' Day
May 29
Monday
Memorial Day
July 4
Tuesday
Independence Day
September 4
Monday
Labor Day
October 27
Friday
Nevada Day
November 10
Friday
Veterans' Day  (Observed)
November 23
Thursday
Thanksgiving Day
November 24
Friday
Family Day
December 25
Monday
Christmas Day
When January 1, July 4, November 11, or December 25 falls on a Saturday, the preceding Friday is the observed legal holiday. If these days fall on Sunday, the following Monday is the observed holiday.
Periods of Observance:
Periods of Observance
Date
Day
Holiday
February 14
Tuesday
Nevada Tribes Legislative Day
March 15
Wednesday
Veterans Day at the Legislature
March 31
Friday
Cesar Chavez Day
April 6
Thursday
Tartan Day
April 16
Sunday
Healthcare Decisions Day
April 28
Friday
Arbor Day
May 1
Monday
Law Day U.S.A.
May 14
Sunday
Mother's Day
May 18
Thursday
Asian Culture Day
June 19
Monday
Juneteenth Day
July 28
Friday
Buffalo Soldiers Day
August 9
Wednesday
Indigenous Peoples Day
September 17
Sunday
Constitution Day
September 22
Friday
Native American Day
September 30
Saturday
Public Lands Day
October 9
Monday
Columbus Day
October 16
Monday
Sarah Winnemucca Day
December 7
Thursday
Pearl Harbor Remembrance Day
Nevada Holidays Calendar 2023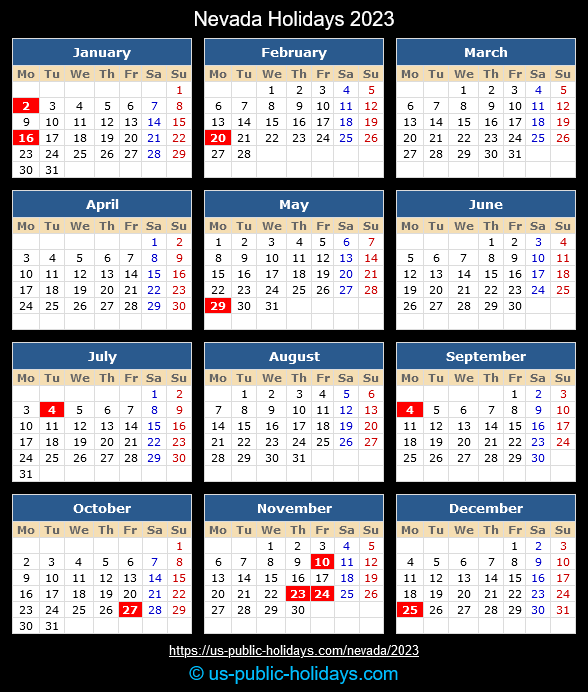 References: