Georgia Holidays 2022
Check Public Holidays in state of Georgia for the year 2022.

Public Holidays:
Check public holidays observed in Georgia for the year 2022.
Public Holidays
Date
Day
Holiday
January 17
Monday
Birthday of Martin Luther King, Jr.
May 30
Monday
Memorial Day
July 4
Monday
Independence Day
September 5
Monday
Labour Day
October 10
Monday
Columbus Day
November 11
Friday
Veterans' Day
November 24
Thursday
Thanksgiving Day
November 25
Friday
State Holiday
December 23
Friday
Washington's Birthday
December 26
Monday
Christmas (Observed)
January 1, 2022 (the legal public holiday for New Year's Day), falls on a Saturday. For most Federal employees, Friday, December 31, 2021 will be treated as a holiday for pay and leave purposes.
When any federal holiday fall on Saturday, then that holiday was observed on preceding Friday.
When any federal holiday falls on Sunday, then that holiday is observed on following Monday.
Special Days
Date
Day
Holiday
February 1
Tuesday
Firefighter Appreciation Day
February 3
Thursday
Girls and Women in Sports Day
February 6
Sunday
Ronald Reagan Day
February 12
Saturday
Georgia Day
February 14
Monday
Law Enforcement Officer Appreciation Day
March 28
Monday
Prison Chaplains Appreciation Day
April 9
Saturday
Former Prisoner of War Recognition Day
May 2
Monday
Water Professionals Appreciation Day
May 15
Sunday
Peace Officer Memorial Day
August 7
Sunday
Purple Heart Day
October 2
Sunday
Children's Day
October 8
Saturday
Bill Elliott Day
October 13
Thursday
Bird Day
October 17
Monday
School Bus Drivers Appreciation Day
December 15
Thursday
Bill of Rights Day
Georgia Holiday Calendar 2022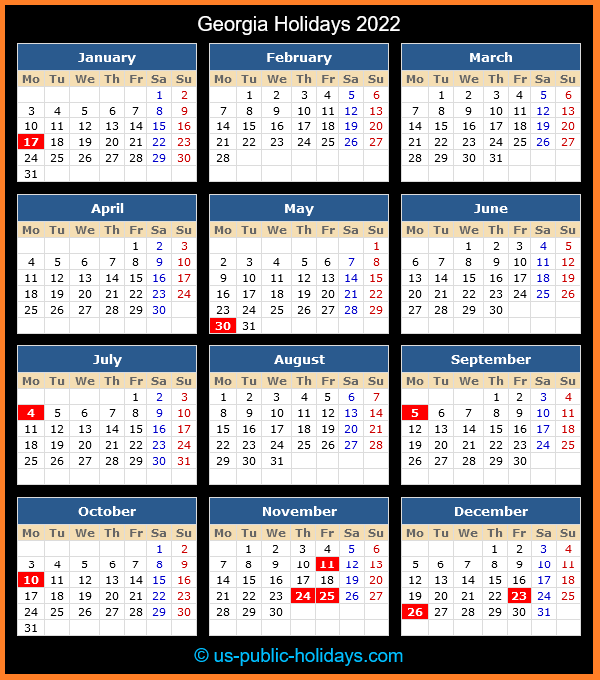 For US Post office holidays 2022 list please visit USPS Holidays 2022 .
For more detail holidays list please visit Georgia Govt .